Biographies
Ozzie Yue (Cheung Wing)
British actor, of Chinese descent, Ozzie has worked extensively, in TV, Film, Theatre and Radio since the early 1980's and also as a musician since the 60's.
His many credits include:
Film: Lara Croft Tomb Raider, Syriana, Out for a Kill, From Hell, Croupier, Nuns on the Run.
Most recently he appeared in Walk Like a Panther alongside Stephen Graham and Warner Bros' Jim Button and Luke the Engine Driver, which is due for international release.
TV: Father Ted, Dr Who, Come Fly With Me, Rab C Nesbitt, Marco Polo (Netflix), Preston Front (3 series), Silent Witness, Casualty, Lovejoy and Counterpart (Season 2).
Theatre: Midsummer Night's Dream (Liverpool Everyman), Takeaway, (Theatre Royal Stratford East), Moonwalking in Chinatown (Soho Theatre), 3000 Troubled Threads (Edinburgh Int. Festival) and as Kensuke in Michael Morprogo's, critically acclaimed, "Kensuke's Kingdom"(UK No1 tour).
Ozzie's musical career has spanned 6 decades as a guitarist and singer with 'The Hideaways' in the 60's and 'Supercharge' (Virgin Records) in the 70's and he holds the unofficial record for most appearances on Liverpool's world famous Cavern Club.
As well as touring the UK and Europe, Supercharge played Reading Festival and Hyde Park, where they supported 'Queen', who were fans of the band.
He still enjoys gigging with his band 'Yue Who'.
Michelle Yim (Mei Lan)
Michelle trained at ALRA.
Theatre: An Evening with Miss Wong (Edfringe 2018); The Empress and Me (Adelaide Fringe 2018, Edfringe 2017); Taking Flight Festival 2017 (England Tour); DiaoChan: The Rise of the Courtesan (UK Tour); From Shore to Shore (Freedom Studios, Leeds); The Autumn of Han (UK Tour); Arrivals (NI tour); The King and I (Theatre at the Mill); The Translator (play-reading, Soho theatre) & Writers Pathway Project (play-readings, Octagon Bolton).
She has also appeared in numerous short films and in small roles on TV (Sherlock & Blue Murder), and works as a voice over artist in English, Cantonese and Mandarin.
Luna Dai (YiDi)
Luna is a London-based actor. She was born in China and lived there for 19 years before her family moved to Canada. She enjoys travelling, food, classic novels, anime and theatre. Her life-long goal as an actor is to challenge people's perceptions of women, gender roles, and Asian people.
THEATRE CREDITS Include : Oberon, A MIDSUMMER NIGHT'S DREAM (Shakespeare's Globe, private showing), May, FEN (Corbett Theatre), Herbert Pocket, GREAT EXPECTATIONS, Linda, NEAPTIDE (Arcola Theatre), Old Nada, I AM YUSUF AND THIS IS MY BROTHER(Tristian Bates Theatre), May, HOW TO BE A TREE.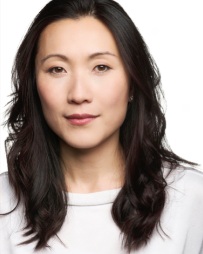 Alice Lee (Por Por)
Alice Lee, actress/writer, was born in Hong Kong, grew up in Australia and lived in London since 2007. Even though she graduated with a degree in Marketing and worked in the business sector, she still found herself longing to become an actress. Despite her parents' oppositions and concerns, she embarked her acting training in Sydney and has since worked in theatre, TV and films across Hong Kong and the UK. She wrote and starred in Dragon Lady: Being Anna May Wong in 2008 and was honoured to be part of True Heart Theatre in 2008-2010. Alice's movies credits include My Best Friend's Wedding, Coulda, Shoulda, Woulda, Missing and Butterfly. She also appeared in the ITV's series Katy Brand's Big Ass Show and was engaged in Channel 4's Foreigners, due to be released in 2019.
Matt Lim (Bob, Young Cheung Wing)
Matt Lim is a multi award-nominated actor, playwright, and published author, originally from the West Midlands. He is Artistic Director of Punchline Theatre.
Stage includes: Break of Noon (Finborough Theatre), Love in the Past Participle (The Other Palace), The Mentalist's Book Club (Bush Theatre), BEAM 2018 Musical Showcase (Theatre Royal Stratford East), Edward! (Westminster Abbey), Bodas de Sangre and Yerma (Barons Court Theatre), Way Back (Pleasance Theatre), 2 Complicated (Tour inc. Edinburgh Fringe and Barons Court Theatre).
TV/Film includes: BBC Doctors, 50 Ways to Kill Your Lover, LUCID: The Dreamwalker, The Confusion of Tongues.
Windson Liong (Gwor Qing)
Training: Royal Central School of Speech and Drama (London), Lasalle College of the Arts (Singapore).
Theatre: Chinglish (Park Theatre), O Deptford, Song Unsung, Dim Sum Nights (Yellow Earth Theatre), Hot Pants (Drama Centre Theatre Singapore), Miss Saigon (Malmö Opera), Jack and the Beanstalk, All Workers Go to Heaven, Takeaway (Theatre Royal Stratford East), The Coffin is Too Big for the Hole (Platform 65), Day I Met the Prince, The Wee Question Mark and the Adventurer, If There're Seasons, I am Queen, Immortalx (The Theatre Practice), Rainbow Fish, Hop & Honk, Moonbird, Summer Swarm of Songs, You are Special (I Theatre), and Fugitive (Dramabox).
Lucy Lan Luo (Ying)
Lucy was born in China, grew up in South Africa and moved to the UK aged 14. She did a Biochemistry degree at Imperial College London and is a recent graduate from Drama Studio London. She was one of the 2016 winners of the Creative Constellations Bursary awarded by Yellow Earth Theatre.
Theatre credits include: The Lonely Passion (Rehearsed Reading - National Theatre), Women of Twilight (New Diorama), This Changes Everything (New Diorama), The Reluctant Doctor (Edinburgh Fringe).
TV credits: Death Row Doctors, Crimewatch.